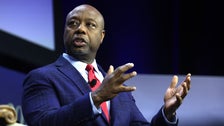 WASHINGTON ― Democrats want to eliminate the practice of legacy admissions at universities and colleges in the wake of the Supreme Court ruling overturning affirmative action, arguing that it unfairly benefits wealthy and often white families at the expense of lower-class applicants of color.
The idea is being well met by a surprising number of Republican lawmakers who cheered the high court's decision last month, but they stopped short of endorsing federal legislation that would actually ban institutions of higher education from giving preference to students with legacy or donor status.
"I think legacy admissions, particularly at the super-elite universities, demonstrate even for them a large amount of hypocrisy, but I'm just not convinced we have the authority to tell them not to do it," Sen. John Kennedy (R-La.) said Wednesday.
Legacy-based admissions occur when a college or university gives a preference to applicants based on whether a family member graduated from that institution or is related to a donor or a faculty member. Being a legacy can provide a huge boost to one's odds of acceptance. The admission rate for legacy applicants at Harvard, for example, is over five times that of non-legacies.
Legislation offered Wednesday by Sen. Jeff Merkley (D-Oreg.) and Rep. Jamaal Bowman (D-N.Y.), which is called the Fair College Admissions for Students Act, would prohibit colleges and universities that participate in federal student aid programs from engaging in the practice. It would also give the Secretary of Education the ability to give certain exemptions to Historically Black Colleges and Universities (HBCUs).
"In the wake of the Supreme Court's shameful decision to end race-conscious admissions policies, we're about to see colleges across the country get even richer and whiter than they already are," Bowman said in a statement. "It's now more urgent than ever that we take action to create and support diverse learning environments, including by passing our bill to ban legacy admissions and continuing the fight to bring back affirmative action."
The bill has lots of Democratic support but no GOP co-sponsors. However, some Republicans echoed the critiques of legacy admissions.
"It's a little bit interesting that the elite universities which have done so much virtue signaling with regard to addressing disparities have this by which to cultivate loyalty among its students," Sen. Bill Cassidy (R-La.), the top Republican on the Senate Health and Education Committee, told HuffPost.
"Without taking a position, I can't help but note that irony. If it turns out that that is a major contributor to inequality to our nation, I would expect them to voluntarily end it if they truly mean all those things for which they signal virtue," he added of colleges and universities.
Sen. J.D. Vance (R-Ohio), a Yale Law graduate, agreed and called for "fundamental reform." He said that admissions decisions should be "based on merit, not on who you knew, who your parents were, and what your race is."
Sen. Ted Cruz (R-Texas), who graduated from Harvard Law, said that the idea of eliminating legacy admissions would be "certainly a reasonable policy to consider." He added, "There's no doubt that in the wake of the affirmative action decision… there are many ways to ensure diversity in university admissions short of discriminating based on race."
Tim Scott, the only Black Republican in the Senate and a 2024 GOP presidential candidate, also supports eliminating legacy programs at colleges, urging Harvard University to do so immediately after the Supreme Court ruling striking down affirmative action last month.
Bowman urged Scott to support his legacy admissions bill in a chance encounter at the U.S. Capitol on Wednesday, but the senator was noncommittal, saying only he would "look" at the proposal.
One argument that has been made against eliminating legacy admissions at top schools like Harvard is that they can also benefit minorities whose parents or grandparents are alumni.
A Harvard class of 2023 graduate who identified himself only as Wonuola told HuffPost that many of his classmates would be reluctant to give up the practice.
"As a member of the Black community at Harvard, I've talked to a lot of students who also would not want to see legacy admissions removed for their future children, and a lot of Black students from wealthy areas are legacy students," he said at a Wednesday reception hosted by the Harvard Institute of Politics in downtown Washington, D.C.
He added: "Students who are admitted through legacy admissions are also qualified to be at Harvard. I think a lot of them would be admitted even if they weren't legacies."
But Sen. Chris Van Hollen (D-Md.), another proponent of the bill, said that data shows that legacy admissions "overwhelmingly" disadvantage people of color.
Van Hollen also argued that Congress is well within its rights to legislate on the issue because of the billions of dollars it provides to colleges and universities, including students attending them. Although Harvard is a private institution, for example, nearly 20 percent of Harvard students receive federal Pell Grants.
"It's interesting that Republicans who claim they want a fair process, equal admissions process, would be ducking with those kinds of excuses," Van Hollen said. "I think it's very clear that the current system is stacked against all students who are not part of that heredity privilege ― but the numbers show it's especially stacked against students of color."