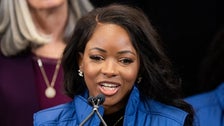 MSNBC's Zinhle Essamuah, in an interview with Crockett on Saturday, asked for the Democrat's reaction on DeSantis appearing to "be on the defense." Florida is facing scrutiny for standards that say students should be taught that enslaved people had opportunities to develop skills that "could be applied for their personal benefit."
"OK, so first of all, Ron DeSantis is a loser," replied Crockett, who'd previously described the Florida governor as an "ignorant fool."
"He's going to continue to wage these losing battles," Crockett said. "He lucked up and became the governor of Florida, and he has only taken Florida down."
Crockett adds her name to a list of politicians who have knocked the Republican presidential candidate over his administration's educational standards.
DeSantis, in a tense interaction with a reporter who asked whether there were "beneficial aspects" to slavery, claimed that it was "not what the curriculum says."
Crockett noted that DeSantis has waged fights with Black Republicans and Mickey Mouse, before calling on him to exit the presidential race.
"Ron DeSantis needs to kind of chill out, and he honestly needs to suspend his campaign," she said.
Crockett, who is Black, also expressed her surprise about Black Republicans criticizing the education standards, since they didn't have "very much to say" on DeSantis' war against so-called critical race theory in the state.
"This was just the next level ― they have decided that they are going to whitewash and completely act as if slavery was a benefit to Black folk," Crockett said. "And my only question is, how many of them are willing to sign up for slavery today if that's the case, if they are looking for those same good benefits that Black folks suffered under? I'll wait for them to sign up."