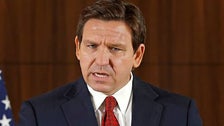 Florida has "effectively banned" Advanced Placement Psychology classes from being taught in the state, the College Board said in a statement.
"We are sad to have learned that today the Florida Department of Education has effectively banned AP Psychology in the state by instructing Florida superintendents that teaching foundational content on sexual orientation and gender identity is illegal under state law," the College Board said. "The state has said districts are free to teach AP Psychology only if it excludes any mention of these essential topics."
The course, according to the College Board, in part aims to "describe how sex and gender influence socialization and other aspects of development."
Such content was banned in the state as part of a crusade against education on racism, sex, gender and sexual orientation, including attacks on the teaching of critical race theory and the silencing of discussions about the LGBTQ community. The censorship has been led by Florida Gov. Ron DeSantis, now a 2024 Republican presidential candidate, through legislation including the "Stop WOKE Act" and the "Don't Say Gay" law. The College Board announced Thursday that it refuses to change its course, claiming that each of the topics are essential for college "credit, placement, and career readiness."
"The state's ban of this content removes choice from parents and students," the College Board said in a statement. "Coming just days from the start of school, it derails the college readiness and affordability plans of tens of thousands of Florida students currently registered for AP Psychology, one of the most popular AP classes in the state."
The College Board's development committee defended its psychology curriculum, saying in a statement: "As a committee, we affirm that gender and sexual orientation are essential, longstanding, and foundational topics in the study of psychology."
The removal will affect Florida students who signed up for the course for the 2023-24 school year. About 28,000 took the college prep class in the state last year.
In a statement to HuffPost, the Florida Department of Education rejected the idea that it "banned" the course.
"The Department didn't 'ban' the course. The course remains listed in Florida's Course Code Directory for the 2023-24 school year," it said. "We encourage the College Board to stop playing games with Florida students and continue to offer the course and allow teachers to operate accordingly."
But the board confirmed months later that it would not make any further changes to its course curriculums to comply with Florida's laws.
"Please know that we will not modify our courses to accommodate restrictions on teaching essential, college-level topics," the letter said. "Doing so would break the fundamental promise of AP: colleges wouldn't broadly accept that course for credit and that course wouldn't prepare students for success in the discipline."
A representative for DeSantis did not respond to HuffPost's requests for comment.