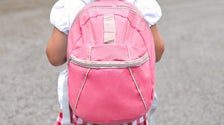 A Texas man was arrested Tuesday after his 3-year-old was found carrying a gun inside a backpack at school, police said.
Pete Robles, 35, was taken into custody on charges of child endangerment, a felony offense, when the weapon was discovered by a teacher at a Pre-K 4 SA center, the San Antonio Police Department said.
The child was unaware that a firearm was in their bag, according to a statement from the school.
"Staff immediately confiscated the weapon and turned the matter over to SAPD," said Pre-K 4 SA, which also announced that no backpacks would be permitted on campus as school officials consider improved safety protocols.
The child has been placed under protective custody with child protective services amid an ongoing investigation, the police department said.