Searching for the perfect baby name can be one of the more exciting things to research before your little one gets here. You might have already looked at celebrity baby names or possibly your favorite show (Bridgerton baby names, anyone?) for ideas but if you're looking for a name that sparks a happy memory then you might consider travel-inspired baby names.
And what's one thing that can take you back to a magical moment like your honeymoon, proposal or wedding location? The name, of course! Maybe you honeymooned in Sydney because you just had to see the famous opera house. Maybe your partner proposed under the glittering lights of the Eiffel Tower in Paris. Or, maybe you had a lovely rustic wedding in Boston. Whatever place calls to your heart might be the place to consider naming your baby after.
Related: These are our favorite 25 celebrity baby names of all time
It's no wonder naming your baby after iconic cities and countries is a growing trend in America. Bounce conducted a study over 20 years, from 2000 to 2020, and found the most popular travel-inspired baby names. Starting with the most popular baby names for boys and ending with popular baby names inspired by cities—Bounce even gives a little bit of historical context for the top performers in each category.
Scroll down to see what iconic places made the list!
Travel-inspired boy names
1. Preston
2. Dakota
3. Israel
4. Kingston
5. Dallas
6. Phoenix
7. Orlando
8. Atlas
9. Boston
10. London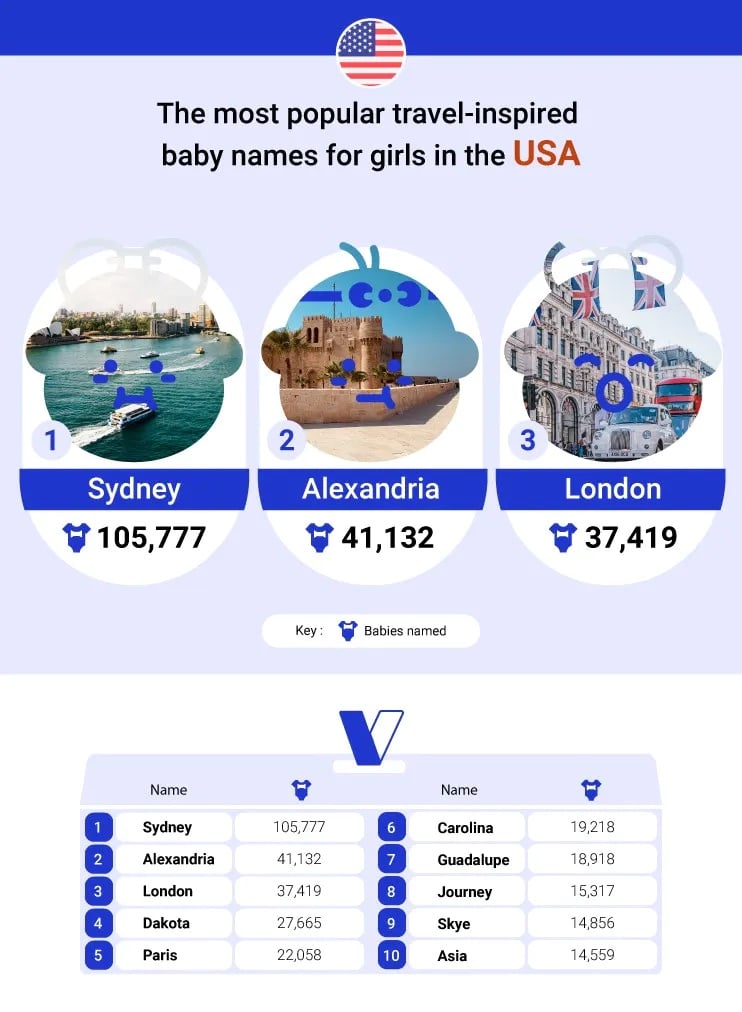 Travel-inspired girl names
1. Sydney
2. Alexandria
3. London
4. Dakota
5. Paris
6. Carolina
7. Guadalupe
8. Journey
9. Skye
10. Asia
Travel-inspired baby names: countries
1. Israel
2. India
3. Kenya
4. America
5. Malaysia
6. Ireland
7. Egypt
8. Italy
9. Trinidad
10. China
Travel-inspired baby names: capital cities
1. London
2. Kingston
3. Paris
4. Cairo
5. Vienna
6. Rome
7. Hamilton
8. Berlin
9. Havana
10. Nairobi
!function(f,b,e,v,n,t,s)
{if(f.fbq)return;n=f.fbq=function(){n.callMethod?
n.callMethod.apply(n,arguments):n.queue.push(arguments)};
if(!f._fbq)f._fbq=n;n.push=n;n.loaded=!0;n.version='2.0′;
n.queue=[];t=b.createElement(e);t.async=!0;
t.src=v;s=b.getElementsByTagName(e)[0];
s.parentNode.insertBefore(t,s)}(window, document,'script',
'https://connect.facebook.net/en_US/fbevents.js');
fbq('init', '1106024069411107');
fbq('track', 'PageView');